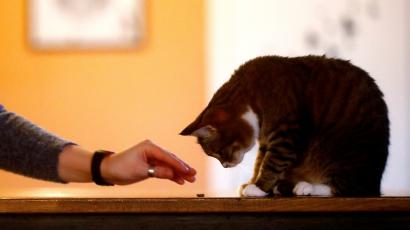 There are literally thousands to choose from these days. This article highlights just some of the innovative products aimed at improving your kitten or cat's welfare and health.
Cat Collars – new snap opens designs
Cat care organisations have advised for a while that traditional collars maybe dangerous. Elastic straps can stretch and move to under the cat's 'armpit' or around the jaw, causing injury. New safety release designs have plastic 'snap open' fastenings that release the collar, leaving the cat free from injury if the collar becomes caught on anything.
Although popular to alert birds to predatory cat's movements, traditional bells are actually not such a good idea either. Similarly, dangling tags on collars can become caught on objects, or the cat can get its claws stuck in them. Collars can be made now with your contact details printed into the collar.
Anti stress innovations
Cats can suffer from stress in some situations – in a multi-cat household, when travelling in a carrier box, when moving into a new home or even if you're moving furniture around redecorating (basic motto: familiar is good, unfamiliar not so good). Two products aim to make the surroundings more familiar-feeling and reduce stress:
Synthetic Feline Pheromone diffusers: these look more like a 'plug in' style air freshener. The diffused liquid should be odourless & undetectable to all except your kitten or cat. Its designed to mimic naturally occurring facial pheromones, the chemical 'scents' cats use to denote their territory with.
Synthetic Feline Pheromone sprays: Can be used to spray furniture aiming to deter urine marking, scratching; to make travelling more comfortable and to spray the floor of a cattery or cat-sitting friend's house while you are on holidays.
Kitten and Cat Toys
o Boingy string toys -a 'wand' for you to …