Whether you own a horse or take care of someone else's, you know there are certain things that are essential for a tack box. Reaching into your tack box and having all of your supplies at your fingertips makes it easier to care for your horse or horses. Look at six items that you should have in your tack box in order to take proper care of your horse.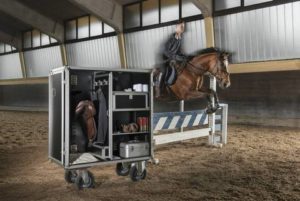 A Durable Curry Comb
If you live on a farm or you allow your horse to graze in the fields near a stable, you know how easy it is for your horse's coat to pick up mud and dirt. Sometimes mud splashes onto a horse's coat and dries leaving behind a crusty mess! This is where a durable curry comb comes in handy. By making circular motions over your horse's coat with your curry comb you can loosen and remove dried mud, dirt and dead hair. After a thorough brush with the curry comb, you can move on to using a soft brush on your horse's coat. This brush serves to smooth down the hair making your horse's coat look shiny and healthy.
A Fly Mask
This is an essential item especially in the dog days of summer. A fly mask keeps flies and other buzzing insects away from your horse's eyes and nose. This can help to ward off infection caused by the bacteria carried by some of these flying insects. You may even want a backup fly mask if your horse's first one gets damaged out in the field.
Two Hoof Picks
If you have two hoof picks in your tack box, you know you have a backup if your favorite one breaks or becomes damaged. A hoof pick is essential for removing small pebbles, clumps of mud, dirt and other debris from your horse's hooves. Two hoof picks in your tack box means you can get your horse's hooves done just in time for a pleasant trail ride.
A Horse Blanket
A horse blanket is essential for many reasons. For one, you can put a blanket on your … Read the rest
Read more